---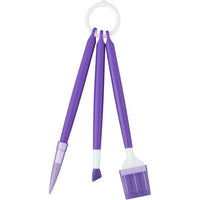 Sale
Decorated cookies with detailed wet-on-wet royal icing.
The Cookie Flooding Decorating Kit includes 3 precision cookie decorating tools specially designed to help you achieve professional-looking royal icing cookie decorating techniques.
Use the etching tool to drag icing, create marbling and feathering, add detailing, and smooth air pockets.
Use the 3-pronged comb tool to marble and pull colors using evenly spaced, clean lines. Smooth edges and remove excess icing using the silicone scraper tool.